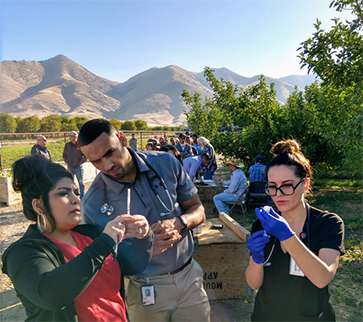 Community Engagement at UPAP aims to understand and address health disparities through a structured learning experiences that build cultural humility. The focus is on critical life-long learning, recognizing and bridging power differences, and fostering mutually beneficial and respectful relationships with community members and organizations. The following programs are specific faculty-mentored community engagement opportunities for our students:
Creek Valley Health Fair in Hildale, Utah
Junior League's CARE-Fair of Salt Lake City
Project Homeless Connect in Salt Lake City
Doctor's Volunteer Clinic of St. George
Maliheh Free Clinic of Salt Lake City
Centro de la Familia Migrant Head Start in rural Northern Utah
Root for Kids in St. George
Utah Community Action Program in Salt Lake City
Ute Indian Tribe on the Uintah and Ouray Indian Reservation
We collaborate with Community Health Centers, Inc., the Utah Department of Health, and Community Health Connect to provide key health services to farmworkers during harvest season
The Patient Voices series was founded by the Physician Assistant Students Supporting Equity and Diversity (PASSED) student organization and was later adopted by the Office of Health Equity, Diversity, & Inclusion.
PA students are trained to organize and facilitate panel discussions featuring diverse and underrepresented patient perspectives and stories that promote culturally sensitive, patient-centered health care.
Community Health Education Workshops
Southern Utah Pacific Islander Health Coalition
Urban Indian Center of Salt Lake City