The India (Himalayas) Learning Abroad Program is a 3-week faculty-led summer learning program based in Kaza and Spiti Valley, India. Like other regions of India, the Himalayan people suffers from disease, poverty, and other pressing social issues. While in Kaza, India, students will travel abroad to work on field projects related to geosciences, public health, dentistry, engineering and business aimed at improving health, fostering sustainable development through entrepreneurship and creation of livelihoods. The group will team with local communities, key contacts and community development partners to establish and assess ongoing activities in that region. Students will be able to observe, interact and work directly with community leaders and our partner, Ecosphere (a social enterprise NGO) to understand and improve the overall health of the Himalayan people.
QUICK INFO:
Location: Kaza, India
Program Length:
      3 weeks
Number of Credits:
      4 credits
Eligibility:
      The Program is open to all UofU students and
      Non-UofU students
DATES:
Summer
      June 3 - 25, 2022
Application Deadline: February 15, 2022
PROGRAM COST (estimate):
      Undergraduate: $4,940
      Graduate: $5,000
Kaza, Himachal Pradesh, India is a town at 12,500 feet above sea level in the Lahaul and Spiti valleys of the mighty Himalayas. Built on the banks of Spiti river, it is the administrative hub of the district. It is surrounded by towering peaks and offers a gorgeous vista of pristine natural beauty of the Himalayas. Kaza is about 470 miles from New Delhi, the capital of India, and accessible by road all year around. You will visit the highest village in the world connected by road and work and hike at 14,500 ft.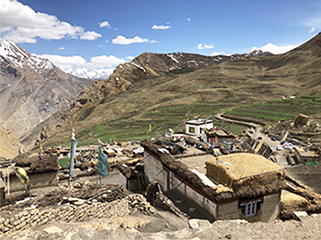 Partners include academic, civil society, and village leaders and members in Kaza, India.
Ecosphere - Ecosphere is a reputable community based social enterprise working in Spiti region of the Himalayas. Its focus is sustainable rural development in the remotest parts of the Himalayas. A wide range of activities are undertaken by Ecosphere including but not limited to economic empowerment, development and conservation with a sharp focus on preservation of the fragile ecosystem of the region. Key to these is engaging with the inhabitants of the region who offer a rich heritage of traditional practices; Ecosphere is deeply invested in it.
More information can be found at:
Typically, projects are broadly related to research or service. Where possible, students will have the opportunity to review various projects in order to match their interests or skills to a particular activity. See below for examples of new, ongoing and past research and activities:

Menstrual health management
Public health
Sustainable development
Women's Health (Menstrual hygiene management: understanding current practices and self-help group participation at village level)
Water, Sanitation and Hygiene (water quality assessment)
Indoor Air Quality (among school going children, youth and adults in the communities)
Oral Health
Health Systems (Understanding the local Primary healthcare model which is a mix of Western and traditional Tibetan medicine)
Rural Development